Important Course Documents:
Term Paper Assignment and Guidelines MW
Term Paper Assignment and Guidelines TR
See Books on Reserve at KSU Stark Library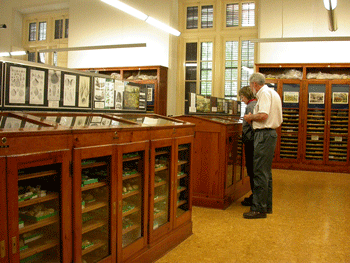 Paleontologists studying fossils in the Museo del Seminario de Barcelona, Spain. Earth's History is recorded in rocks and fossils, which are deposited in museums all over the world. Photo by B. van Bakel.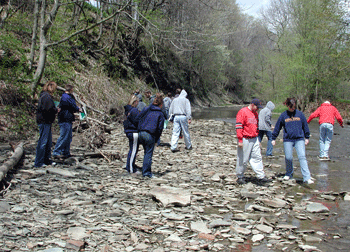 Earth History Field Trip
Lodi City Park
Students observe fossils and sedimentary rocks at the Lodi City Park, just outside of picturesque downtown Lodi. Nearly all of the commonly preserved invertebrate animals can be found as fossils here. Students look for fossils in the rocks in the creek (above) and in the cliffs exposed along the creek. See the syllabus for time and date. Photo by R. Feldmann.