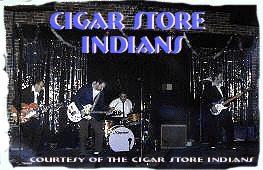 In every single review or article I've read about these guys, no matter if it was a good or bad article, the writer expressed how he/she "couldn't stop dancing" when faced with the music of CSI. I can tell you from personal experience-- they ain't lyin'!
The Cigar Store Indians Are:
Ben Friedman- Vocals, Guitar, Swank
Jim "Low Note" Lavender- Guitar, Boogie-Woogie
Keith Perissi- Bass, humor
Pup Roberts- Drums, new guy, heart-throb


These cats came swingin' out of Georgia with their first big release in 1995, a self-titled disc featuring crowd-pleasers "Jailbait" and "This Town Ain't Cool."

They met up with the Zippers for a few dates in 1997, and later asked Kenny to blow a little on their new album, 1998's El Baile de la Cobra.

Throughout 1998, the Cigar Store Indians provided envigorating warm-up music for some SNZ shows, leaving some fans more than "warm" by the time the Zippers came on!

The Cigar Store Indians mix swing, rockabilly, honky-tonk and anything else jumpin' to form a lively blend of music only they can perform. Think of them as a swanky Stray Cats headed up by a drunken Chris Isaak. Their live shows are spectacles not to be missed! This band puts 110% of everything they have on the stage, and are there to roll over the audience again and again.




Bassist Keith Parissi

The Cigar Store Indians love their fans! Check out their website for touring info, fan lists, audio clips, and swanky pictures of the guys.

Coming SOON I'll have clips of Tom and Kenny blowing their saxes with CSI at some 1998 Ohio shows. But for now, check out:
Some Cigar Store Links:

Review in Rural Route Twangsine


Super article/interview in Creative Loafing Times Aug. '98


Two short reviews found in Country Standard Time.


The band's listing on the ezine www.greaser.net. Updates coming.


Some pictures from a 2/28/99 show!
The official CSI page with tons of stuff!
Cigar Store Indians on the UBL
Super article in the Miami New Times
A short review in a 1996 issue of CST
A nice big picture and a few kind words
A very short review of El Baile de la Cobra in Music Monitor
An article in a '96 issue of a Florida magazine, when CSI was playing bars still
A stupid article in a stupid e-zine, Whatever on an SNZ and CSI show

---
Visit Wash Jones' General Store to buy CSI's self-titled album and El Baile de la Cobra

---
Back to The Landing
This webpage was brought to you in part by:

Do you have any information or questions about the Cigar Store Indians
or the Squirrel Nut Zippers?
Mail Me