--May 2013 FINAL Itinerary --
Kent State University
College of Business International Business Experience
Following is the "final" itinerary for the May 2013 COB International Business Experience. Past classes have shown that we may need to be flexible during the trip as circumstances can change.
Saturday, May 11 – I will be at Cleveland Hopkins Airport by 10:00 a.m. for a 12:13 departure from Cleveland Hopkins Airport, United Airlines flight 242; arrive Newark, NJ at 2:00 pm.  I leave Newark on United Airline flight 956 at 5:45 pm arriving in Geneva on Sunday, May 12 at 7:45 a.m.  For your flight remember to have your ticket information and your passport in hand.
Sunday, May 12 –7:40 am arrive Geneva. Pick up bags, go through customs
9.00 -10.00 - Check into rooms at KSU-Webster Geneva Dorm  (this time is tentative)
11.30 Meet in the lounge/lobby
12.00 Lunch with group
13.30 Walking/bus tour of Geneva
19.00 Dinner with group
Monday, May 13
7:15 am  Meet in KSU lounge/meeting room for morning briefing – BRING Passport and Eurail Pass.
7:30 am  Depart to the Gare Cornavin (grab breakfast on the go).
8:21am  Depart Gare Cornavin for Vevey (Platform 3), arrive 9:25.  [back up, depart at 8:33, Plaform 4, arrive 9:33]
Walk to Nestles – 15 minutes
10:00 am  Nestles briefing, Tom Buday; 11 am the Digital Acceleration Team [Professional dress!!]
<![if !supportLists]>· <![endif]>Lunch [on own]
14.22 Depart Vevey on Train  S1- 12147 (Platform 3) arrive Veytaux-Chillon 14:34
15.00  Tour Chillon Castle
Return train to Geneva -- possible times:  16.26 Platform 2 (arrive Lausanne, 17:02; Depart Lausanne 17:12 on IR 2528, platform 7, arrive Geneva 17.45 );   17.26 (arrive Lausanne 18.02,  platform 8; depart 18.12 on IR 2530, platform 4, arrive Geneva 18.45 )
Tuesday, May 14 
10:00 UN Tour - 14, avenue de la Paix (Buses: nos. 8, 11, 14, F, V and Z ;bus stop is "Appia")
<![if !supportLists]>· <![endif]>Lunch [on own]
12:51 Depart Gare Cornavin for Allaman (Platform 1), arrive 13:20; depart Allaman 13:41 (Platform 3) arrive Etoy at 13:43.
2:00 p.m.  Parker-Hannifin Corporation, La Tuiliere 6,  1163 Etoy, Switzerland (Dan Whitman Ph: +41 (0) 21 821 86 03).  (Potential returns:  17.10 Etoy Platform 2, S3-12365, arrive Morges at 17:16; depart Morges Platform 2 at 17:27, IR 1432 arrive Geneva, 17:57; or depart Etoy at 17:15 Platform 1 on S4 - 12462, to Allaman 17:19; depart Allaman Platorm 2 at 17:38 on RE 2632, arrive Geneva 18:09; or  depart at 17:43, Platform 2, on S4 12467 to Morges, arrive 17:49,  depart 17:57, Platform 2, on IR 1732, arrive Genève 18:27)
 [Dinner on own]
Wednesday, May 15
9.30 to  Mont Saleve (casual outdoor wear)
Bus (No. 8, 34, 41) to Veyrier-Ecole or Veyrier-Douane.
15:30 – WTO (Mr. Patrick Low) , Centre William Rappard, Rue de Lausanne 154, -------From Gare Cornavin, take the Bus number 1 in the direction of Jardin Botanique, which is also the WTO stop and the last one on the bus line. [Bring Passport]
 [Dinner on own]
Thursday, May 16
8:00 am Meet in lounge/meeting room for morning briefing
9:15 am Bus to WIPO [Bus 5, 8, F, V, Z from Gare Cornavin to Nations or UIT]
10.00 World Intellectual Properties Organization 34, chemin des Colombettes; [Bring Passport]
To Gare Cornavin for Bus 8 (8.42 or 8.46)
13.30  International Labor Organization , 4 route des Morillons Meeting at the reception of the ILO (R2 North)
 [Dinner on own and/or depart for Independent Travel]
Friday, May 17 – Independent travel activities (on own) Suggestions: Geneva, Bern, Lausanne, Fribourg, Lucerne, Annecy (Fr), Chamonix, Vallais, Zermatt, Italy or Spain (plan on train reservations for Thursday night travel).
Saturday, May 18 -- Independent travel activities (on own)
Sunday, May 19 --Travel to Strasbourg (on own).  Note: check to see if you need advance reservation for the train to Strasbourg.
After 14.00 check in at Hotel CITADINES Strasbourg Kleber, 50-54 Rue du Jeu des Enfants, (optional, meet at 17.30 for visit to central city).
Monday, May 20  
7.45 Meet in lobby
9.30 EU Parliament  [Bring Passport]
[Lunch on own;]
14.00 – Historic Boat Ride
[Evening optional, tram/bus travel to Germany for dinner]
[Dinner on own]
Tuesday, May 21
7.45 checked out and ready to depart for Gare Central
8:46 TGV (train TGV 2420) arrive Paris-Est 11:08 
Travel by metro to Hotel Edouard VI (Hotel Edouard VI, 61, boulevard du Montparnasse);  [alternative, train TGV 9578  8:16 arrive Paris-Est at 10:35)
 [lunch on own]
13.45 meet to metro to tour of Paris (at office by 14.15)
14.45 Paris City Vision, Pyramides office, 2 Rue des Pyramides (Pyramids street), 75001 Paris. Metro: Pyramides, Tuileries or Concorde. [From hotel, M12 direction Porte de la Chapelle, 7 stops to Concorde; M1 direction Chateau de Vincennes, 1 stop to Tulleries, past Rue Saint-Roch, left on Rue des Pyramides.]
20.00 Dinner at Le Coupole Restaurant in Montparnasse
Wednesday,

 

May 22
9.00 meet in lobby; Depart Hotel Edouard VI, for Versailles
12.00  [Lunch on own]
14.00 Louvre
[Dinner on own]
Thursday, May 23
8.30 in lobby
10 am StratX (15 avenue de l'Opera , Metro "Pyramides" on lines 14 and 7)
 [Lunch on own]
13.50  at the embassy for security check prior to visit (embassy security office does not allow anyone to bring electronic equipment into the embassy - so please do not bring ipods, cameras, blackberry's, laptops, etc. or we can place them all in a single bag) [Bring Passport]
14:30 to 15:30 p.m.  U.S. Embassy 2, avenue Gabriel  (Metro stop Concorde: 1, 8, or 12 line)
[Dinner on own]
Friday, May 24
10:00 La

Basilique

du

Sacre
Coeur
[Lunch on own]
Afternoon:   Cultural Visit to Grand Department Stores
[Dinner on own]
Prepare for next day departure.
Saturday, May 25
6:00 am:   Meet in Lobby checked out and ready to take cab/van to Aéroport de Paris Charles de Gaulle (CDG); My flight is United Airline #57, leaving at 9:25 am arriving Newark at 12:05; Go through customs; leaving Newark at14:50 arriving CLE at 16:31.
(Have your ticket information and your passport in hand. Connect to flight and arrive CLE.  [We will arrange transportation for those departing at other times]
Hotel Information
Webster University Geneva
Residence Les Berges du Rhone
2-4 Rue des Deux-Ponts
1205 Geneve, Switzerland
Phone from the US:  011 41 22 321 76 30
Fax from the US:  011 41 22 321 50 84
The RA's phone numbers: +41 76 236 0814, +41 76 549 7231
eMail to:  lesberges@webster.ch
Website: www.lesbergesdurhone.com
CITADINES Strasbourg Kleber
54 Rue du Jeu des Enfants,
67000 Strasbourg, France
Phone from the US:  011 33 3 90 22 47 00
http://www.hotels.com/ho220186/citadines-kleber-strasbourg-strasbourg-france/
3.         Hotel Edouard VI
            61, boulevard du Montparnasse
            75006 Paris
            Phone from the US:  011.33.1.45.48.94.99
            Fax:  011.33.1.45.44.09.25
(http://www.parisby.com/edouardvi/index.html)
            Email:  hotel-edouardvi@wanadoo.fr
            (http://www.hotel-paris-montparnasse.com/)
*Area Codes: The country code for France is 33. The first two digits of French numbers are a prefix determined by zone: Paris and Ile-de-France, 01; the northwest, 02; the northeast, 03; the southeast, 04; and the southwest, 05. Numbers beginning with 08 can be either toll-free calls or calls that you are charged for (it depends on how the company has set up the number).
Calling France: When dialing France from abroad (e.g., the U.S.), begin with the international code (011), then the country code (33), then drop the initial 0 from the area code number (I have dropped the initial 0 in the phone numbers above). For instance, to call a telephone number in Paris from the United States, dial 011-33 plus the phone number minus the initial 0.  When dialing locally, use the full 10 digits, beginning with 0 and the area code.  To call France from the United Kingdom, dial 00-33, then dial the number in France minus the initial 0.
Calling Switzerland:  The same  logic applies to Switzerland, where the country code is 41.  Switzerland is divided into a number of geographical areas with different area codes. A phone number consists of the area code and a local phone number. The area code has either two or three digits and starts with a zero such as 22 for Geneva or 043 for Zurich. The local phone number has seven digits. When calling a number within the same area, the area code is not be dialed.
To call a number in Switzerland from abroad, dial the international access code applies (011 from the USA) then 41 (country code for Switzerland), then the area code without the leading zero plus the local phone number.
From the Airport to the Webster University Geneva
If you will be arriving at the airport in Geneva around 7:30 am on Sunday, we will wait for you. However, if you are getting in after 8:15 or so, I will likely let you get to us on your own. If cost is no matter, you can take a cab….but public transportation is available, easy, and (for this part of the trip) free.
HOW TO GET TO OUR DORM IF YOU ARE NOT WITH ME:
<![if !supportLists]>1. <![endif]><![if !vml]> <![endif]>
If you are arriving on your own by public transportation, you would take the train from the airport to Gare Cornavin (the main train station in Geneva) using the free public transportation ticket that you would get near the luggage carousel at the airport. For information on this, see GVA (or go to http://genevalunch.com, search for Geneva airport, and click on "The cheerful traveler: Geneva airport, public transport…). The vending machines that provide the free tickets are inside the baggage claim area, before going through customs. They are near the machine that sells baggage cart tokens BEFORE you exit the baggage area.
This is a picture of the free vending machine.
Get the ticket, exit the baggage area, and walk to your left to find the train station at the airport. The trains leave about every 12 minutes. Take the train one stop to

Gare

Cornavin

.
<![if !supportLists]>3. <![endif]>When you exit the front of the main train station (Gare Cornavin or "Genève-Cornavin"), walk to your right, to the first cross street beside the station.  You would then look for the 14 Tram going in the direction of P+R Bernex (NOT in the direction of Meyrin-Graviere). You would take the 14 Tram to the Palladium stop (this is the 4th stop and is about an 8 minute ride).
<![if !supportLists]>4. <![endif]>Once you get off, keep walking in the same direction as the tram and the residence is 100 meters down the street (rue des Deux-Ponts #2). You'll have to use the under path to cross the bridge and reach the other side. Once you walk up the under path, you'll be facing the residence.
From the Gare Cornavin (train station) to the Dorm:
<![if !vml]>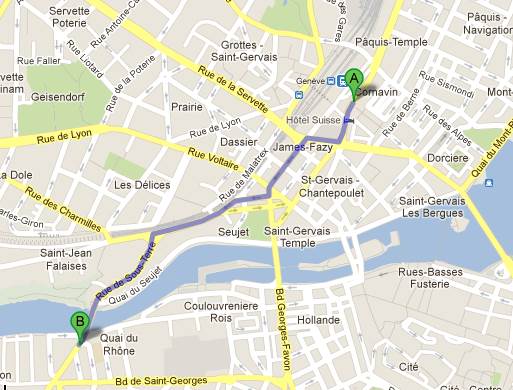 <![endif]>
CITADINES Strasbourg Kleber
54 Rue du Jeu des Enfants
67000 Strasbourg, France
<![if !vml]>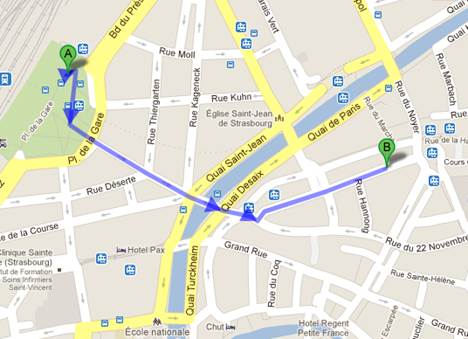 <![endif]>
<![if !vml]>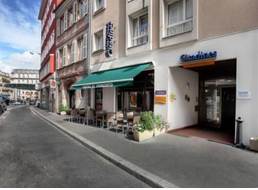 <![endif]>General Information
Completely renovated, the 3-star residence Citadines Strasbourg Kleber is situated within a stone's throw of Place Kléber and close to Strasbourg's cathedral. Citadines Apart'hotel Strasbourg Kléber is located in a modern six-story building and features 107 fully-equipped apartments, ranging from studio to suite apartment, as well as a patio and business facilities. Nearby guests will find numerous shops and restaurants as well as the district of La Petite France. The railway station is only a 10-minute walk from the hotel. The nearby tram stop will enable you to reach quickly the whole city.
Restaurant --
Breakfast is served from 07:00 until 10:00 on weekdays and from 08:00 until 10:30 on weekends and bank holidays.
The hotel is .2 miles from the Train Station:  Exit the train station, walk straight out (towards the McDonald's, on the corner of Pl. de la Gare and Rue du Maire Kuss).  Walk straight along Rue du Maire Kuss (McDonalds' on your left), cross on the bridge (somewhere here, Rue du Maire Kuss may become Rue du 22 Novembre, to Rue du Jeu des Enfants; just keep walking straight).  Watch for Rue du Jeu des Enfants on your left (one block beyond Rue du Vieux Marche aux Vins).  Turn left and the hotel is down the block, on your right.
<![if !vml]>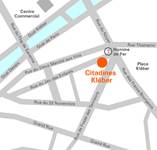 <![endif]>
Or take the Tram: Walk to the Strasbourg Faubourg National station and take Tram B until the Homme de Fer station. It takes 10 minutes and costs 1.30€. 
Hotel Edouard VI
61, boulevard du Montparnasse
75006 Paris
<![if !vml]>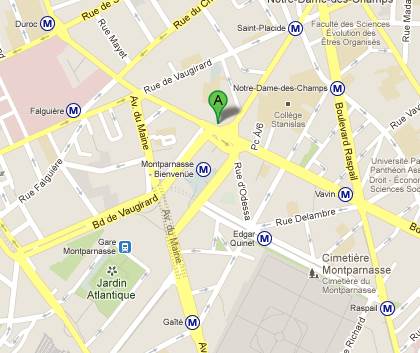 <![endif]>
<![if !vml]>
<![endif]>
<![if !vml]>
<![endif]>
Magnificently located near the Tour Montparnasse, in the heart of one of the most famous nineteenth century parts of Paris, the Hotel Edouard VI is just a few minutes from Saint German des Prés.The hotel offers air-conditioning, Lift, Luggage room, Non-smoking hotel, Dry-cleaning, Car hire, Free newspapers, fax/photocopies, Lounge.  A Wi-Fi connection is available throughout the hotel free access.
24 hour reception, Room Service, Reservation service for taxis, restaurants and shows.
Our team's priorities are helpfulness, availability and friendliness at all times.