--May 2000 Itinerary--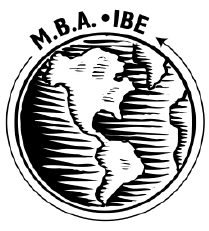 Kent State University
MBA International Business Experience

Following is the "final" itinerary for the May 2000 MBA International Business Experience. Experience has shown that we may still need to be flexible during the trip.
Saturday, May 13 -- Be at Cleveland Hopkins Airport by 10.20 for 12.20 departure from Cleveland Hopkins Airport, American Airlines flight 5082 arrive JFK at 13.55. Have your ticket and your passport in hand.
Saturday, May 13 19.50 Depart NYC/Kennedy, Swissair flight 139
Sunday, May 14 9.30 Arrive Geneva. Pick up bags, go through customs
11.00 Take Touriscar bus to John Knox Center
11.15 Check into rooms at center
12.00 Lunch at John Knox Center
13.00 Walking/bus tour of Grand Saconnex and Geneva
18.00 Dinner at John Knox Center
Monday, May 15 -- 8.30 Meet in Lobby for walk to International Red Cross
9.00 International Red Cross -- 19, Ave De La Paix - 1202 Geneva
12.00 Lunch on own
15.30 United Nations tour (tentative/optional)
17.00 Dinner at John Knox Center
Tuesday, May 16 -- 8.20 meet in Salle 3 - leave for Gare Cornavin (train station)
9.18 depart le Gare for Montreux arrive 10.19, visit Chillon Castle
11.00 Visit Chillon Castle-- Getting there: To reach the Chdteau de Chillon from Montreux, head toward Villeneuve on the lakeside road. The castle is 3 km (2 miles) from Montreux. We will likely take the No. 1 electric bus from Montreux.
[Lunch on own in Montreux or Vevey]
Trains run from Montreux to Vevey often. (12.14--12.22; 12.39--12.45; 12.51--12.59)
14.00 Nestle S.A. From the train station, walk toward Lausanne along Avenue General Guisan (about a 10 minute walk)
16.46 depart Vevey train station for Geneva, arrive 17.42 (later trains: 17.16--18.22; 17.20--18.31; 14.46--18.42)
[Dinner on own]
Wed., May 17 8.30 Meet in Salle 3, JKC
10.00 International Labor Office (ILO) M. S. Oates in room X on the R2 south level (per Dominique Bonello)
[Lunch at ILO on own]
14.00 Geneva Financial Center for meeting with UBS and briefing on the Swiss Exchange
[Dinner on own]
Thursday, May 18
10.30 P&G 1, rue du Pre-de-la-Bichette; 1211 Geneva 2
10.31 [Lunch at P&G with informal continuation of briefing]
14.00 WTO Room A of the Centre William Rappard [NOTE--Bring your passport/visa ... it must be presented at the main entrance].
[Dinner on own]
Friday, May 19 Sightseeing/cultural activities (on own) Suggestions: Geneva, Bern, Lausanne, Fribourg, Lucerne, Annecy (Fr), Chamonix, Vallais, Zermatt
Saturday, May 20 Sightseeing/cultural activities (on own)
Sunday, May 21 Travel to Paris (on own) Note: you must make advance reservation for the TGV train to Paris. TGV train times: 7.46--11.22; 9.59--13.40; 10.42--15.06; 12.41-16.19
After 14.00 Check in at Hotel Edouard VI
17.00 Meet in lobby for walk to St. Germain des Pres and Latin Quarter.
19.30 Dinner at Restaurant --Chez Clement in Montparnasse
Monday, May 22 9.00 Tour of Paris Tour bus will pick us up at hotel. Return to hotel
at 12:3 0 [Lunch on own]
14.00 visit Le Louvre (tour the museum at your leisure)
[Dinner on own]
Tuesday, May 23
Cultural time -- on your own
[Lunch on own]
14.00 Depart Hotel Edouard VI, for Versailles (via Gare Montparnasse)
[Dinner on own]
Wed., May 24
9.00 AXA
[Lunch on own]
14.00 to 16.00 -- IBM France --La Defense
[Dinner on own]
Thursday, May 25 Check out of hotel after breakfast. We should be able to leave bags in the breakfast room.
9.30 - 11.30 U.S. Embassy 2, avenue Gabriel -- Laurence Flannery
[Lunch on own]
Return to the hotel to pick up bags and take the train to Strasbourg.
13.48 Train departs Paris Est for Strasbourg
17.41 Arrive Strasbourg. Check in to Hotel Le Regent Contades (tentative)
[Dinner on own]
Friday, May 26
9.30 Meet in Hotel Lobby
10.00 European Union Parliament
[Lunch on own]
Open cultural time
[Dinner on own]
Saturday, May 27 08.50 Train departs Strasbourg for Basel, arrive 10.07.
10.22 Train departs Basel for Biel/Bienne from Platform I 1, arrive 11.30 platform 4.
11:36 Train departs Biel/Bienne for Geneva from Platform 5.
13.13 Arrive Geneva
Prepare for next day departure.
15.30 Wrap up session, Salle 3,
17.00 Closing reception (wine and cheese)
Sunday, May 28 12.15 Depart Geneva airport, Swiss Air flight 138 arrive JFK 14.40
19.59 Depart JFK, American Airlines flight 5085, arrive Cleveland Hopkins 21.49.
Go through customs, board bus