--May 2003 Itinerary--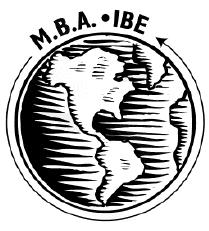 Kent State University
MBA International Business Experience

Following is the "final" itinerary for the May 2003 MBA International Business Experience. Experience has shown that we may still need to be flexible during the trip.
Saturday, May 10 -- Be at Cleveland Hopkins Airport by 1.00 for 2.40 departure from Cleveland Hopkins Airport, Continental Airlines flight 324; arrive Newark at 4.18. Leave Newark on Continental Airline at 19.30 on flight 80. Have your ticket and your passport in hand.
Sunday, May 11 -- 9.10 arrive Geneva. Pick up bags, go through customs
10.30 Take Touriscar bus to John Knox Center
11.00 Check into rooms at center
12.00 Lunch at John Knox Center
13.00 Walking/bus tour of Grand Saconnex and Geneva
18.00 Dinner at John Knox Center
Monday, May 12 -- 9.00 Meet in Lounge for briefing and walk to International Red Cross
10.00 International Red Cross -- 19, Ave De La Paix - 1202 Geneva
[12.30 Lunch on own ]
15.30 WTO
17.00 Dinner at John Knox Center
Tuesday, May 13
7.15 Meet in Lounge for briefing
8.30 Banque Lombard Odier Darier Hentsch & Cie
[Lunch on own]
14.30 ILO
Wednesday, May 14 –
9.00 meet in lounge for briefing
10.00 U.N.
[Lunch on own]
14.30 JKC Mark Mozayyan
[Dinner on own]
Thursday, May 15 –
8.00 meet in lobby - leave for Gare Cornavin (train station)
9.05 depart le Gare (#37CIS) for Montreux arrive 9.54, visit Chillon Castle
11.00 Visit Chillon Castle-- Getting there: To reach the Chateau de Chillon from Montreux, head toward Villeneuve on the lakeside road. The castle is 3 km (2 miles) from Montreux. We will likely take the No. 1 electric bus from Montreux.
[Lunch on own in Vevey]
14.00 Nestle S.A. From the train station, walk toward Lausanne along Avenue General Guisan (about a 10 minute walk)
16.46 depart Vevey train station for Geneva, arrive 17.42 (later trains: 17.46--18.42; 18.46—19.42; 19.46—20.42)
[Dinner on own]
Friday, May 16 -- Sightseeing/cultural activities (on own) Suggestions: Geneva, Bern, Lausanne, Fribourg, Lucerne, Annecy (Fr), Chamonix, Vallais, Zermatt
Saturday, May 17 -- Sightseeing/cultural activities (on own)
Sunday, May 18 --Travel to Paris (on own) Note: you must make advance reservation for the TGV train to Paris. TGV train times from Geneva: 5.45-9.21 (#6560); 7.50-11.25 (#6564); 10.00-13.31 (TVG #6568, I plan on this one); 12.56-16.25 (#6572).
After 14.00 Check in at Hotel Edouard VI
17.00 Meet in lobby for walk to St. Germain des Pres and Latin Quarter.
[Dinner on own]
Monday, May 19 –
9:00--Meet in Lobby
10:00 IBM
La Défense 5 - Tour Descartes 2, avenue Gambetta
92066 PARIS - LA DÉFENSE CEDEX
[Lunch on own]
15.30 Tour of Paris Tour bus will pick us up at hotel. Return to hotel at 12:3 0
[Dinner on own]
Tuesday, May 20
9.00 Depart Hotel Edouard VI, for Versailles (via Gare Montparnasse)
[Lunch on own]
14.00 Diebold France
19.30 Dinner at Restaurant --Chez Clement in Montparnasse
Wed., May 21
9.15 meet
10.00 TBD – Sacre Coeur (Tentative)
14.00 Louvre visit.
[Dinner on own]
Thursday, May 22 -- Check out of hotel after breakfast. We should be able to leave bags in the breakfast room.
Check out of hotel
[Lunch on own]
Return to the hotel to pick up bags and take the train to Strasbourg.
13.47 Train 67EC departs Paris Est for Strasbourg [Reservation recommended]
17.41 Arrive Strasbourg. Check in to Hotel Le Regent Contades. Walking tour of central town.
[Dinner on own]
Friday, May 23
9.00 Meet in Hotel Lobby
10.00 European Parliment
[Lunch on own]
14.00 Kroenbourg Beer Factory
[Dinner on own]
Saturday, May 24 -- 08.55 RX #96237 departs Strasbourg for Basel, arrive 10.11. Train IR618 departs Basel at 11.24 for Geneva . Arrives Geneva at 14.12.
[OR RX96211, departing Strasbourg 10.55 arriving Basel 12.11. Train IR624 departing Basel 13.24 arriving Geneva 16.12]
Prepare for next day departure.
15.30 Wrap up session, Salle 3,
17.00 Closing reception (wine and cheese)

Sunday, May 25 –
9.00 Meet in lobby for cabs to airport
11.30 Depart Geneva airport, flight CO81 arrive Newark 14.00
16.30 Depart JFK, CO 225 arrive Cleveland Hopkins 18.08.
Go through customs.


Hotel Information
1. John Knox Center (Centre Internationale Reforme John Knox)
27, ch. Des Crets de Pregny
Grand Sacconex, GE Switzerland
Phone: 011.41.22.747.00.00
Fax: 011.41.22.747.00.99
2. Hotel Edouard VI
61, boulevard du Montparnasse
75006 Paris
Phone: 011.33.1.45.48.94.99
Fax: 011.33.1.45.44.09.25
3. Hotel Le Regent Contades
8, Avenue De La Liberte
Strasbourg 67000
Phone: 011.33. 3. 88.15.05.05
Fax: 011.33.3.88.15.05.15
Area Codes: The country code for France is 33. The first two digits of French numbers are a prefix determined by zone: Paris and Ile-de-France, 01; the northwest, 02; the northeast, 03; the southeast, 04; and the southwest, 05. Numbers beginning with 08 can be either toll-free calls or calls that you are charged for (it depends on how the company has set up the number).
Calling France: When dialing France from abroad, begin with the international code (011), then the country code (33), then drop the initial 0 from the area code number. For instance, to call a telephone number in Paris from the United States, dial 011-33 plus the phone number minus the initial 0. When dialing locally, use the full 10 digits, beginning with 0 and the area code. To call France from the United Kingdom, dial 00-33, then dial the number in France minus the initial 0.
Calling Switzerland: The same logic applies to Switzerland, where the country code is 41. Switzerland is divided into a number of geographical areas with different area codes. A phone number consists of the area code and a local phone number. The area code has either two or three digits and starts with a zero such as 01 or 043 for Zurich. The local phone number has seven digits. When calling a number within the same area, the area code is not be dialed.
To call a number in Switzerland from abroad, dial the international access code applies (011 from the USA) then 41 (country code for Switzerland), then the area code without the leading zero plus the local phone number.

Group Flight Information
FLIGHT DATE DEPART ARRIVE TIMES
CO 324 10 May Cleveland OH Newark NJ 240p 418p
Terminal C
CO 80 10 May Newark Intl Geneva 730p 910a
Terminal C
CO 81 25 May Geneva Newark NJ 1130a to 200p
CO 225 25 May Newark Intl Clevland 430p 608p