Grant Related Decapod Research
Student projects are often related to current Grant Activity (see Grant Activity page for current areas of study). Such projects are usually related to the decapod Crustacea and have included the systematics, evolution, biogeography, functional morphology, and paleoecology of decapods and other organisms from Chile, Argentina, Mexico, Antarctica, Eastern Europe, and New Zealand.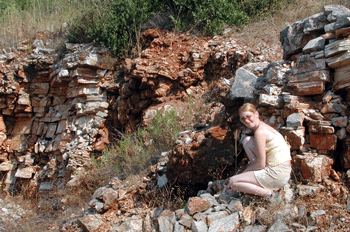 Aubrey Shirk. M.S. student in paleontology, collecting fossils on Hvar Island in Croatia. Photo by R. Feldmann.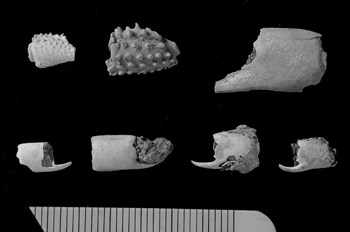 Various claws from Baja California Sur, Mexico
back to top
Other Decapod Research
Student research need not be tied to current grants. For example, students have completed research on evolution and paleobiogeography of decapods from the North Pacific with grant funding applied for and received after the initiation of the project. In addition, work on the cuticle of decapods and the phylogeny of primitive lobsters from British Columbia has been completed in recent years.
Research on Other Organisms
Research may focus on groups other than the decapod Crustacea. Students and faculty have completed grant-related projects on echinocarids, which are primitive crustaceans; corals from Antarctica; brachiopods from Antarctica; and annelid worms from Antarctica. Other students have concentrated on Devonian brachiopods of Ohio, Devonian stromatoporoids of Ohio, pelecypods from Ohio, Ordovician bryozoans from Ohio; Permian horseshoe crabs from Texas; and paleontology and sedimentology of Ordovician rocks of Ohio. Discuss your ideas about potential projects with us!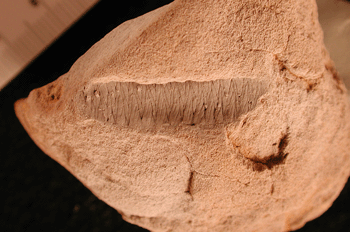 Eocene worm fossil from Seymour Island, Antarctica