DirtyDan's Characters
My characters for WotC's D&D, by version 3.5 rules.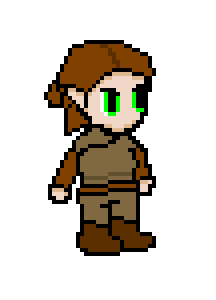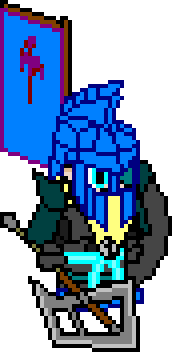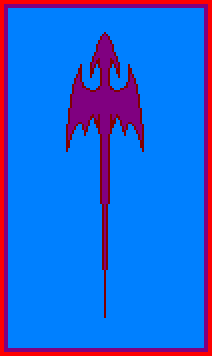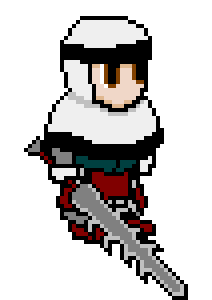 Lieutenant Valgard, Purple Dragons, Cerulean Division, Dragon Arrow Company


Mountain Dwarf Male
Incarnate 4 / Warblade 3 / Fighter 2 / Legendary Tactician 2
"Sorry, gents, but this is an unlawful assembly!"

| | | |
| --- | --- | --- |
| Strength | 20 | +5 |
| Dexterity | 12 | +1 |
| Constitution | 18 | +4 |
| Intelligence | 10 | +0 |
| Wisdom | 10 | +0 |
| Charisma | 12 | +1 |
| | |
| --- | --- |
| Hit Points | 124 |
| Armor Class | 26 |
| Base Attack | +9/+4 |
| Fortitude Save | +17 |
| Reflex Save | +3 |
| Will Save | +5 |



Feats
1st: Toughness
Bonus: Toughness
3rd: Expanded Soulmeld Capacity
Ftr1: Weapon Focus (Longsword)
6th: Leadership
9th: Bonus Essentia
Ftr2: Exotic Weapon Proficiency (Dwarven Waraxe)
Skills (Total=Ranks+Ability+Miscellaneous)
Balance +4=9+1-6
Diplomacy +13=12+1+0
Intimidate +5=4+1+0
Knowledge (Religion) +2=2+0+0
Listen +2=2+0+0
Ride +2=1+1+0
Spot +3=3+0+0
Abilities
Darkvision
Stonecutting
Flaw: Shaky
Detect Chaos
Weapon Aptitude
Incarnum Radiance 1/day
Uncanny Dodge
Leadership Bonus +1
Inspire Courage +2 (2/day)



Soulmelds

Incarnate 4 (6 essentia)
Soulmelds
Crystal Helm
Adamantine Pauldrons (Expanded)
Cerulean Sandals
Flame Cincture
Chakra Binds: 1 (Crown, Feet, Hands)


Maneuvers

Warblade 3(8)
Stances
Iron Heart: Punishing Stance
Other Maneuvers
Iron Heart: Steel Wind
Stone Dragon: Charging Minotaur, Mountain Hammer, Bonecrusher
White Raven: Leading the Attack



Possessions
439 GP, +2 Dwarven Waraxe, +3 Heavy Steel Shield, +2 Full Plate Armor, Ring of Evasion, Ring of Acid Resistance (20), Ring of Improved Jumping, Potion (Bear's Endurance), Potion (Cure Moderate Wounds) x5, Red Potion, Amethyst, Dragon Arrow Standard.

Background

Valgard's family is descended from the mountain dwarves in the north of Alpernia. A peculiar trait that had been passed from father to son, however, was a certain lack of typical dwarven xenophobia. Just as Halgoth was taught a century and a half ago to appreciate the virtue of men and even his son Valgoth learned to value the contributions of exceptional elves, thus was Valgard taught to judge others by proof of their virtue over racial stereotypes. Because this distanced the family from the other dwarves, and because Valgoth had grown weary of constant clan bickering, he chose to move his family out from the caves and into human settlements. So while Valgard was born under the mountains, he grew up in a small human town in the Alpernian highlands -- sundered from his people, but always close at hand to the mountains -- as the son of a respected blacksmith.

When Valgard was a child no taller than an adult halfling -- but stronger than any boy his size, and already with a beard to rival any young adult human -- he was nearly the victim of bullying by younger children who were taller than he was. On a day when his parents had left him alone in the shop, three of these human boys broke in, wielding sticks. Valgard, hearing the disturbance, met them in the smithy, where he took up Valgoth's hammer. He chased the boys out of the shop, where, as they looked back to see him bearing down on them, they crashed into a group of armored knights, members of the Purple Dragons' Cerulean Brigade, the soldiers who, at the time, were assigned to defend the north of the kingdom. Valgard expected to be arrested and punished for attacking these boys, even though nobody was hurt, but he was delighted to find that, according to the knights, it was well within the law for him to defend his home like that. Having been mostly isolated in his young life, Valgard took a new interest in the laws of men, fascinated with this code that dictated what was right and what was wrong. In addition, he began to idolize the Cerulean Division's knights, champions of this law.

Valgard began to follow the activities of the Purple Dragons in his town, watching them marching and drilling, eagerly observing as two generations of soldiers climbed their way through the ranks. He took to heart the codes of the Purple Dragons and began training himself to fight. At the age of fifty, he finally enlisted in the Cerulean Division. He proved a model soldier, working his way up from private to corporal to sergeant, even training with some of the division's specialists who taught him how to shape incarnum into physical manifestations of the law, much to his delight. Soon after he began this training, though, his homeland was shaken by the terror of a goblin insurrection, with thousands of them rising from the hills. The entire Cerulean Division was mobilized to eradicate the threat, and in the final clash of the campaign, Valgard wielded his incarnum longsword in the melee, eventually finding himself fighting near the Division's general. While he fought off a goblin attack force from his general's command center, he took a deep cut to his left eye, which was irreparably damaged. In recognition for his valor, the general promoted him to lieutenant and transferred him to Captain Winston's Dragon Arrow Company.

However, on Valgard's first overseas mission with Dragon Arrow Company, fate took a turn for the worst. The sinister Baron Reginald, a candidate to succeed the Lord Archibald's position, wanted to dispose of his competition, Captain Winston. Dragon Arrow Company was ambushed on a cartographical mission in Vynheim by a group of hobgoblins: in the melee, Captain Winston was killed by the hobgoblins' commander, but after Valgard finished him off, he called a truce with his foes. They reached the agreement that part of the Company, including Lieutenant Valgard, its acting commander, would be taken prisoner in exchange for the release of the others. The prisoners were thence taken into the Great Desert, where Valgard was separated from his men.

Valgard alone, of Dragon Arrow Company, reached his unwitting destination in the dungeons of the Pharaoh's arena, where he met, among others, the conceited pretty-boy Calbert Cargo, as well as a kender named Tsukero, a Lathian crusader named Cecil, and a minotaur named Horace. After finding that they were sentenced to serve as gladiators, a group of prisoners, including Calbert, arranged a daring escape from the arena with the aid of a dwarven gladiator who was content to stay there. What followed was a seemingly endless trek through the desert, during which they managed to locate several other survivors of Dragon Arrow Company (Corporal Andrew Ravensworth and Privates Bert Goodwin, Charlie Hamilton, Dave Kirkman, and Frank Higgins), kill the Pharaoh himself, and encounter the man who had arranged their capture, a slaver named Saris. While Saris escaped, they did find among his caravan documents that detailed the plot against Captain Winston.

At long last, Valgard, Calbert, and Company crossed the barrier of the Great Desert into southern Lathis, finally coming upon some semblance of civilization. While there, not only did they manage to stir up trouble between the followers of Athena and Ares, they were accosted by Atilius Severus, follower of Tiamat, whose device Calbert had previously desecrated. In the battle, Corporal Ravensworth was slain by Atilius, though Valgard ultimately managed to kill their foe. The group then pursued a quest for Athena in exchange for their resurrection of the Corporal. They then managed to arrange passage on a ship with a nobleman whom they had rescued from the desert, though his murder thereafter required them to resort to more underhanded means to commandeer the ship.

It wasn't long, though, before the ship was destroyed in a storm and Dragon Arrow Company was again scattered before the winds. Valgard and Calbert landed in a jungle country where they met Doc Bambigon, eccentric gnome inventor, who sent them on several missions that pitted them against yet more followers of Tiamat but eventually resulted in the completion of Doc's new airship, a vehicle that would allow them to cross both ocean and land at high speed. Along the way to its completion, after slaying a trio of the Knights of Neraka, elite human servants of Tiamat, Valgard attempted to appease Tiamat by sacrificing most of his material wealth, hoping that the Chromatic Dragon would allow them safe passage afterwards. But when, after they began searching for the survivors of Dragon Arrow Company once again, Tiamat sent one of her avatars to destroy them, Valgard's desire for peace with her dissolved into an adamant resolve to fight. By his valor, the red one of the avatar's five heads was severed, effectively driving her off. At this point, he began reaching out with his soul to Bahamut, Tiamat's archnemesis, in hope of calling an equal force to rally behind him against the marauding hordes of Tiamat.

When a servant of a third-party deity arrived on the scene, he informed them that their actions were precipitating a holy war between his master and Tiamat, but that Tiamat would be recoiling to regroup for a while. They moved on, taking their search for Dragon Arrow Company north, where they found Privates Kirkman and Higgins, along with new recruit to the cause Sir Patrick Valdimir di Paladine II. Patrick used his connections with the house of Valdimir to research information on nearby metallic dragons, at Valgard's behest, and, after a few tedious distractions, they were on their way to the dragon's mountain. Only a short way up, though, they encountered a band of derro who were under the sway of the slaver Saris. Without so much as a few words of parley, Valgard and Calbert brazenly charged the man who had facilitated so much of their suffering. He was soon incapacitated and then tortured to death by Calbert. Valgard is currently 68 years old.

つづく

Personality
Valgard's worldview has been literally narrowed in part due to his missing eye. Because he only sees with the right side of his brain, he has difficulty seeing things outside of absolute black and white codes. Throughout his protracted escape from the Great Desert, he has proven pathologically paranoid about newcomers to his group, finding, much to his chagrin, that hardly any of them maintain any semblance of an honorable soul. He is more than willing to wade into combat for the sake of his mission, but he always maintains consideration for the safety of his allies and is willing to back down when doing so is the only logical solution.



62474/65000





Dragon Arrow Company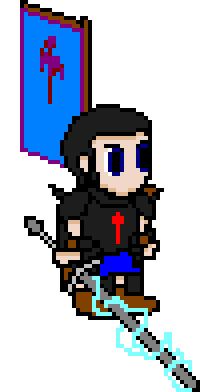 Sergeant Andrew Ravensworth


Human Male
Warblade 4 / Marshal 4
"Can't sleep... acid will eat me..."

| | | |
| --- | --- | --- |
| Strength | 16 | +2 |
| Dexterity | 14 | +2 |
| Constitution | 14 | +2 |
| Intelligence | 14 | +2 |
| Wisdom | 10 | +0 |
| Charisma | 16 | +3 |
| | |
| --- | --- |
| Hit Points | 85 |
| Armor Class | 19 |
| Base Attack | +7/+2 |
| Fortitude Save | +10 |
| Reflex Save | +5 |
| Will Save | +5 |



Feats
Human: Power Attack
1st: Combat Expertise
Marshal 1: Skill Focus (Diplomacy)
3rd: Improved Disarm
6th: Combat Reflexes
Skills (Total=Ranks+Ability+Miscellaneous)
Balance +8=11+2-5
Concentration +13=11+2+0
Diplomacy +6=0+3+3
Knowledge (History) +13=11+2+0
Knowledge (Geography) +11=9+2+0
Perform (Weapon Drill) +15=9+3+3
Ride +11=9+2+0
Survival +11=11+0+0
Abilities
Battle Clarity (Reflex Saves)
Weapon Aptitude
Minor Aura +3 (Master of Tactics)
Major Aura +1 (Motivate Attack)
Uncanny Dodge
Battle Ardor (Critical Confirmation)
Grant Move Action 1/day





Maneuvers

Warblade 4(6)
Stances
White Raven: Bolstering Voice, Tactics of the Wolf
Other Maneuvers
Diamond Mind: Sapphire Nightmare Blade, Emerald Razor
Iron Heart: Steel Wind
White Raven: Battle Leader's Charge, White Raven Tactics



Possessions
200 GP, +1 Shock Greatsword, +2 Half Plate, +1 Heavy Wooden Shield, +1 Bastard Sword, +1 Longsword, Banded Mail.



30380/36000






Privates Bert Goodwin, Charlie Hamilton, Dave Kirkman, and Frank Higgins
Human Male
Fighter 1

| | | |
| --- | --- | --- |
| Strength | 14 | +2 |
| Dexterity | 10 | +0 |
| Constitution | 10 | +0 |
| Intelligence | 10 | +0 |
| Wisdom | 10 | +0 |
| Charisma | 10 | +0 |
| | |
| --- | --- |
| Hit Points | 16 |
| Armor Class | 19 |
| Base Attack | +1 |
| Fortitude Save | +2 |
| Reflex Save | +0 |
| Will Save | +0 |
Feats
Human: Toughness
1st: Toughness
Fighter 1: Shield Focus (Heavy)
Skills (Total=Ranks+Ability+Miscellaneous)
Climb +1=4+2-5
Handle Animal +4=4+0+0
Ride +4=4+0+0
Abilities
-None-


Possessions
200 GP, Longsword, Heavy Steel Shield, Banded Mail.

Seaman Arius Caecus
Human Male
Mariner 1

| | | |
| --- | --- | --- |
| Strength | 10 | +0 |
| Dexterity | 14 | +2 |
| Constitution | 10 | +0 |
| Intelligence | 10 | +0 |
| Wisdom | 10 | +0 |
| Charisma | 10 | +0 |
| | |
| --- | --- |
| Hit Points | 8 |
| Armor Class | 12 |
| Base Attack | +0 |
| Fortitude Save | +2 |
| Reflex Save | +4 |
| Will Save | +0 |
Feats
Human: Skill Focus (Profession (Sailor))
1st: Dodge
Mariner 1: Mobility
Skills (Total=Ranks+Ability+Miscellaneous)
Balance +7=4+2+1
Climb +5=4+0+1
Profession (Sailor) +8=4+0+4
Spot +4=4+0+0
Survival +4=4+0+0
Swim +4=4+0+0
Use Rope +6=4+2+0
Abilities
Seamanship +1
Sailor Lore +1


Possessions
5 GP, Scimitar.

Corporal Sir Patrick Valdimir di Paladine II
Human Male
Paladin 2

| | | |
| --- | --- | --- |
| Strength | 14 | +2 |
| Dexterity | 10 | +0 |
| Constitution | 10 | +0 |
| Intelligence | 10 | +0 |
| Wisdom | 10 | +0 |
| Charisma | 14 | +2 |
| | |
| --- | --- |
| Hit Points | 18 |
| Armor Class | 20 |
| Base Attack | +2 |
| Fortitude Save | +5 |
| Reflex Save | +2 |
| Will Save | +2 |
Feats
Human: Honor-Bound
1st: Toughness
Skills (Total=Ranks+Ability+Miscellaneous)
Knowledge (Nobility and Royalty) +5=5+0+0
Knowledge (Religion) +5=5+0+0
Ride +5=5+0+0
Abilities
Aura of Good
Detect Evil
Smite Evil 1/day (+2 attack, +2 damage)
Divine Grace
Lay Hands 4hp/day


Possessions
Masterwork Longsword, Masterwork Heavy Steel Shield, Masterwork Full Plate Armor

Music is Guardia Castle from Chrono Trigger by Nobuo Uematsu.