MIDI Standard Hardware
This is the Standard MIDI Hardware (as described in the MIDI specification).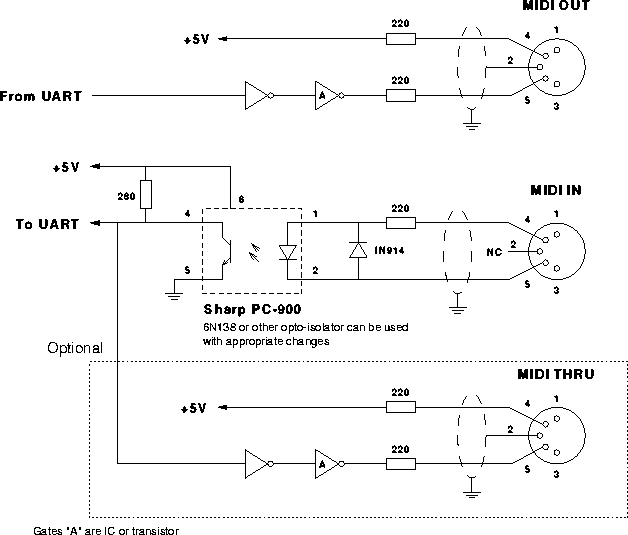 MIDI Ports
There are 3 types of MIDI Port:
| | |
| --- | --- |
| IN | for receiving data going into the MIDI device |
| OUT | for data coming out of the MIDI device (ie data generated by the device) |
| THRU | is like a MIDI OUT, except that THRU acts as a repeater for the data on the MIDI IN port |
Note that if a MIDI device is capable of sending MIDI data, it will appear on the MIDI OUT port, and never on the MIDI THRU port.
Some MIDI devices have a 'Soft THRU' option, which allows the MIDI IN data to be repeated on the MIDI OUT port.
MIDI Cable wiring
All MIDI cables are wired 'straight through' (as per the diagram).
Unused pins (1 and 3) should be left unconnected.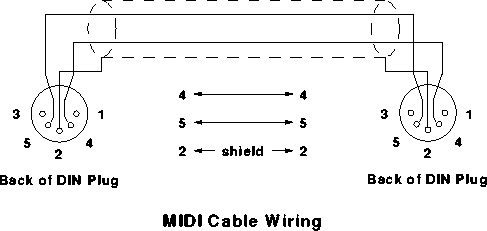 MIDI System Cabling
Here is a cabling diagram of a typical MIDI system.

Note that MIDI OUT connects to MIDI IN.
MIDI THRU also connects to MIDI IN.
You should not connect OUT to OUT, or IN to IN, or OUT to THRU
---
Footnotes:
RS-232 defines a logical 1 to be a negative voltage of at least -3V, ie an input 0V is undefined. However, a 0V signal is usually interpreted as a logical 1, so a swing of 0 to 5V will generally give legible data
Many MIDI sound modules also have a 'serial' input, which accepts RS-232 input at 38400 baud
---