Creating a course in Vista (Using Learning Modules)
Requesting a course template
All Kent State University courses, whether online or face to face, have a course shell automatically created in WebCT Vista. These are generally created a few weeks before the start of a semester. Student rosters are automatically added approximately a week prior to the beginning of class. The courses can be accessed at: https://vista.kent.edu or through Flashline. Please see the Instructions for Using Vista attachment for more information.
If you have taught an online course before and would like the content of that course copied into the new course, please request this at: http://vistahelp.kent.edu/Forms/CourseRequest.asp
If you do not need to have content copied from a previous course, you can also use this link to request a template with predesigned learning modules, file manager folder structure and some alternate graphics. For the College of Communication and Information you would request the CCI General Template.
The template will have the following general look:
<![if !vml]>

<![endif]>
Using this template, your course learning modules would already be created with headings in the table of contents to help guide you in inserting content. Folders have been created in the File Manager to better help you organize your content. A course graphics folder contains several different graphic files that you can use as the header, footer and navigators in the course. Your school educational technologist can help customize these.
Using Learning Modules

     
Learning modules can be an effective organization tool inside Vista. This outlines a possible Vista course structure.
<![if !vml]>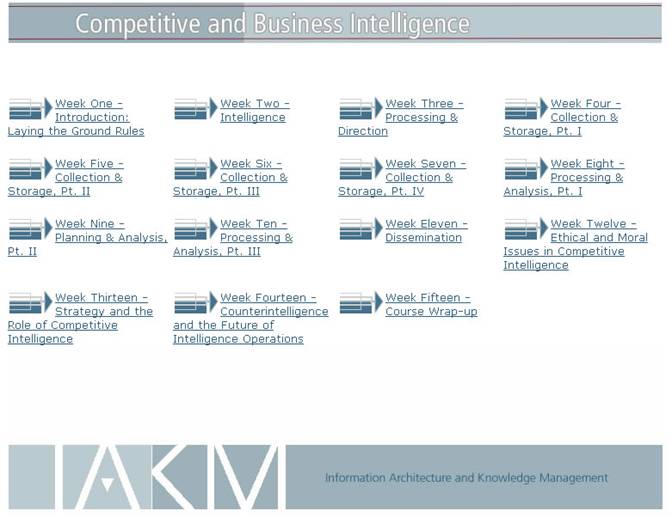 <![endif]>
Create an introductory module that contains the syllabus, overview of course, required materials, help for using the course and an introductory video of the instructor.
<![if !vml]>
<![endif]>
Information to include in Introductory module
Online teaching allows you to more easily offer information in multiple formats, such as; text, video, audio and interactive modules so that students with different learning styles can choose the best solution for their learning needs. A text transcript should be provided for all video and audio presentations. When offering content in different formats, it is important to consistently use the same formats and to give your students links to download free players to open these.
The following text and links could be included in the introductory module in your online course:
To fully enjoy the media richness of each course, we suggest you prepare by downloading the free players listed below. These same applications will be used through out the course.
Lecture presentations and interactives can be viewed with a Flash player. To download a free flash player: http://www.adobe.com/shockwave/download/download.cgi?P1_Prod_Version=ShockwaveFlash
Video will be streamed as wmv files and may be viewed with Windows Media player. To download a free wmv player: http://www.microsoft.com/windows/windowsmedia/player/10/default.aspx
Additional audio files will be mp3 files and may be heard with a variety of audio players including Windows Media player.
Text documents are in pdf format and may be viewed with Acrobat Reader. Download a free player: http://www.adobe.com/products/acrobat/readstep2.html
Because of the multimedia content available in the courses, it is strongly suggested that you have access to a broadband (high-speed) Internet connection.
The course management system currently being used for delivery of the course is WebCT Vista. Upon acceptance into the program and, you will be given a Flashline ID and password that will allow you to log into Vista at https://vista.kent.edu. Before logging in, click on the browser check link which will walk you through configuring your computer for using Vista.
Vista's supported systems are listed below:
Supported Operating Systems:
• Mac OS X 10.1. x
• Max OS X 10.2. x
• Microsoft Windows 98 Second Edition
• Microsoft Windows 2000
• Microsoft Windows XP
• Supported Browsers for Windows :
| | |
| --- | --- |
| Microsoft IE | 5.5 SP2, 6.0 |
| Netscape | 7.0, 7.1 |
| AOL | 8.0, 9.0 |
| Mozilla | 1.5, 1.6, 1.7 |
• Supported Browsers for Macs :
Microsoft IE

5.1 (OS X 10.1)

5.2 (OS X 10.2)

Netscape

7.0, 7.1

AOL

OS X

Mozilla

1.5, 1.6, 1.7 (OS X)

Safari

1.2
Example: Learning module
<![if !vml]>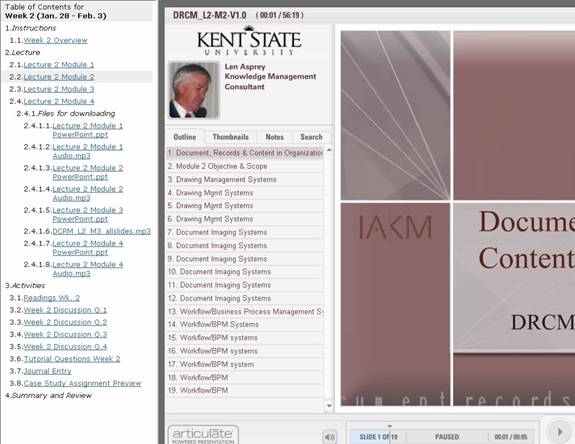 <![endif]>
Learning module Outline
Instructions
State the objectives for the lesson, expected level of involvement, activities, and assignments/assessments due this week with weekly points that can be achieved. Also preview upcoming assignments/assessments.
Lecture
Compiled lecture - PowerPoint with audio or video narration.
Files for Downloading
Lecture PowerPoint slides
Lecture narration in audio format
Lesson Activities
Reading Assignment

Discussion Questions

Tutorial Questions

Journal Entry

Case Study Assignment
Supplemental Activities
Case Study Assignment

Supplemental Reading

Podcasts

Internet Research
Summary and Review
Include grading points available for the week, key learning points, upcoming assignments, etc.