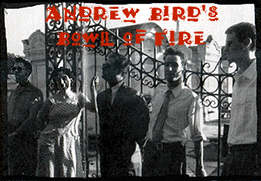 Andrew Bird, also known as the Mad Fiddler Friend of Squirrel Nut Zippers, has been playing with them since Hot. He adds so much musically to the Zippers' sound- Klezmer, Gypsy, and even a hint of Bluegrass. Many fans wish that Bird would become a full-time Zipper, but he has his own band (more on that later). Thankfully, he found enough time to play on both Hot and Perrenial Favorites.
Click on the fiddles to see a list of tracks you can hear him on: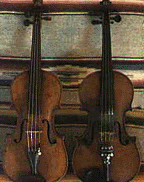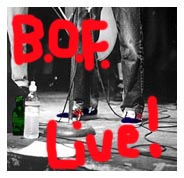 The Bowl of Fire Live Archive

(Described by the illustrious "ME" as "The Net's largest archive of B.O.F. photos and show descriptions")



The following information about Bird's first collaboration with the Zippers was lifted off Matt Mitchell's The Unnofficial Squirrel Nut Zippers Homepage, who previously had lifted it off the Mammoth Records homepage:


 Andrew Bird, a fiddle player from Chicago,first
 crossed paths with the Zippers at a music
 festival in Asheville, NC. He went to see them at
 a gig in Chicago, and announced that he HAD to
 play with them. After learning their set
 backstage, he took the stage and fiddled himself
 a place in the Zipper's hearts. Bird joined the
 band in New Orleans for the recording, and
 infected everyone with his musicianship and
 enthusiasm.


Andrew Bird's Bowl of Fire is the name of his Chicago-based band. The lineup includes Bird on violin and vocals, Kevin O'Donnell on drums, Josh Hirsch on bass (Both O'Donnell and Hirsch were band mates with Bird in Chicago's Charlie Nobody), James Mathus on guitar, Jack Fine on trumpet, and Katherine Whalen on vocals.

After locally releasing a solo album called Music of Hair, Bird formed the band and released Thrills, which was eagerly snatched up by Rykodisc.

You USED to be able to get Music of Hair by sending a check to Andrew at an adress on Granville Rd. in Chicago, but the bugger moved. If you have that address and are ready to send money, STOP! Your check will become part of the tangled web we call the US Postal Service. Come back here for updates on getting the CD.

If you must hear Music of Hair NOW...well then email me and I will make you a tape of my tape.

Andrew Bird's second major release will be out soon. Did you know you can also find his fiddle playing on these albums?:

1995 Kilartan Road Joy to the Morning (see links for more Kiltartan info)

1996 Lil' Ed Williams Keep On Walkin'

1998 Pinetop Seven Rigging the Toplights

Somewhere out there, there's copies of Charlie Nobody's Soup on Clay Dog records. As far as I know, they can't be reached via the 'net. On Soup you can find an earlier recording of "Nuthinduan Waltz" which is also on Thrills
One Last Thing
Two of the songs on Thrills are adapted from German poems:
"Pathetique" is adapted from a Heinrich Heine poem (and some of the original German appears in the song) "A Woman's Life and Love" is adapted from a poem by Adelbert von Chamisso. I have found a copy of the Heine poem in German and had it translated to English. You can find both versions by clicking on the German flag below: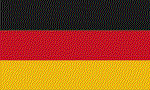 I have not been able to find the Chamisso poem, but I will keep looking.
Other Andrew Bird and Bowl of Fire Links:

Info on the musical Kiltartan Road


Dec. '98 article/interview with Andrew in NewCity


Bowl of Fire index on Billions.com
Andrew's page on LAUNCH.com
The Official Rykodisk Thrills Site
Chicago Centerstage bio of Andrew Bird
Ink19 (music e-zine) review of Thrills
NewCity article on Andrew, Jan. 1998
UBL/iMusic Andrew Bird profile
Bowl of Fire listing on Tourdates.com
---
Visit Wash Jones' General Store to buy Thrills and other Andrew Bird albums!
---
Back to The Landing
This webpage was brought to you in part by:

Do you have any information or questions about Andrew Bird
or the Squirrel Nut Zippers?
Mail Me