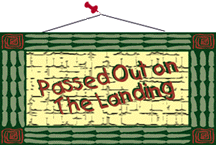 Friends of the Squirrel Nut Zippers

Okay, who broke the counter?
---
Please, sign your bar tab.
---
Welcome Friends!
Last Updated: 7/17/99
Thanks for coming to my site, "Passed Out on the Landing: Friends of The Squirrel Nut Zippers." So far it's brand new, but I am so excited to have this on the web, I couldn't wait 'til it was complete to share it with everyone.
For now, only the links that are underlined are live. Please bookmark this site and come back again for frequent updates!

SNZ will be a part of a new album called Songs for Summer. All proceeds will go Free Arts for Abused Children, in the memory of Summer Brannin. The album won't be out to November (hopefully that early) and the track list is still hush-hush, but I urge every Zipperhead out there to click the banner below to visit the website her boyfriend Adam has lovingly made in her memory. If you have a website, SNZ-related or not, please add a banner link for her. She would have done it for you!


I'm excited about the new Bowl of Fire Live Archive which can be found by following that link or going to the Bowl of Fire page.

Well, I have moved! Xoom let me down with their sneaky ads, so I went over to my school's server. Not only did I move, but I am getting a working counter, submitting the page to search engines, and EVERY link here works! Please update your bookmarks.

I decided to get rid of most the graphics for Wash Jones' General Store. I had to do that because I added TONS of new albums that you can buy online, and not just at Amazon. Some are hard to find, so I hope you take a look!

As promised, since some of you bought records from The Store and the proceeds went to The Shrubbery, I got an interview with Ken for our June issue! Check it out!

The Zippers have taken an extended break from touring and recording. They'll be back sooner or later. In the mean time, check out the real news on The Official Page for words from Kenny and Tom, and Matt's Unofficial SNZ Homepage for dates and whatnot.
COMING SOON!
More articles and hopefully concert dates!
A "Tom Maxwell Memorial Page." (No, he didn't die. He quit the band. For news on this, visit The Official Page.
A new counter. This one never works.
A page about some SNZ charitable works.
A page for Katherine Whalen's Jazz Squad!
A Louis Armstrong section is in the works.
Other things I'm working on are video and audio clips of the Zippers as well as their previous bands, and a special fans-only CD which will feature some "rare" songs from live shows, as well as live favorites. Look for The Landing to have its first contest to win this CD!
---
The idea behind this site is that the Squirrel Nut Zippers are such a talented band that draws from all sorts of influences, and also have some of the most spectacular opening bands at their shows. Lots of fans come away from hearing the Zippers wanting more of what they just heard, but don't know where to look.

I decided to do a lot of web searching for all of these bands. Most of the pages don't offer up anything more than some good links to other sites and some pictures, but that's the point: I want you to read for yourself and explore all of the great music the Zippers are associated with.

You can see that the side menu there is broken up into three categories: Opening Bands, Side Projects, Previous Bands and Influences. Those categories are VERY general, as some bands will overlap (ie Andrew Bird's Bowl of Fire is not only an opening band but also a side project). But you get the idea. You can also find some info on the Zippers themselves by clicking on the Zipper link on the menu bar.

This page is in no way sanctioned by the Zippers themselves (not yet anyway). I say that everyone mentioned on this page and everyone that visits this page is indeed a "friend" of the band...but that may not be true. The band might hate everyone mentioned here. But I have met the Zippers on several occasions and I can tell you that there is hardly a mean bone in any of their bodies.

One more thing...the sales pitch. With any album you buy here through Amazon.com, 15% of the proceeds go to help support my webzine The Shrubbery. The Shrub has had many SNZ articles in the past, we've even had the honor of doing a concert pictorial last September at a show. So please, if you're going to buy any albums at all, visit "Wash Jones' General Store" and get them from here. If you do, I promise an interview with SNZ in 1999!