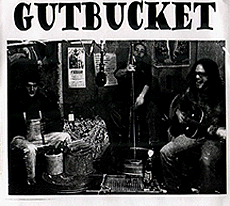 Gutbucket:
gut-bucket n., adj. (1890s - 1950s) . . .
	 . . . bucket used to carry beer; a dive for drinking;
	from about 1900 to 1950 or so, "gutbucket"
 	meant a low-down, nitty-gritty blues style of jazz
	originally played in gin mills, barrelhouses,
	whorehouses, and honky-tonks. The word
	referred to the smaller bucket placed beneath the
	larger liquor barrels to catch the gin leakage in
	such places. (From Juba To Jive: A Dictionary Of African-American Slang, edited
	by Clarence Major, copyright © 1970, 1994.)
I saw this band, under the moniker "North Mississippi All-Stars" open up for SNZ at the Cincinnatti show in 1998. All three guys seem to be very young, and they travelled from show to show in a car. I talked to Cody, the lead singer and washboard player, after the show and he said they were thrilled to be working with the Zippers.

Check out all the updates on The Official North-Mississippi All Stars Homepage! New NMA album in the works, and Luther has been doing various projects on the side.

Speaking of Luther's projects, be sure to check out Othar Turner's new album Everybody Hollerin' Goat that Luther produced and played on. Rolling Stone called it one of the most essential blues albums of the century.

Cody Dickinson


I bought their 7" at the show for $5, and it's pretty cool. They do covers of some good ol' jug band tunes. You can buy it online from The N.M.A. Website.

Cody, Luther, and Paul all appear on Jimbo's Knockdown Society album, and should be appearing on the new Knockdown album this spring.
The band is now called The North Mississippi All-Stars, and feature a new bassist in Chris Chew. They are also now on the Caroline Record Label

Be forewarned: there's other bands and projects out there under the name "Gutbucket" (as shown by an AltaVista search), so you can also find these guys under the name "North Mississippi All-Stars."

Cody and Luther are sons of Jim Dickinson, "avant-roots icon." Their current project is not exactly jug band music like Gutbucket, but most definitely worth a listen!
All The Gutbucket Links I Could Find:
The North Mississippi All Stars Homepage
The Gutbucket Parent Label, Shangri-La Records
My own Review of "Where's The man with the Jive?" in The Shrubbery
A Little NMA history at the Vernon Yard website (part of Caroline Records)

---
Visit Wash Jones' General Store to get Everybody Hollerin' Goat!
---
Back to The Landing
This webpage was brought to you in part by:

Do you have any information or questions about Gutbucket
or the Squirrel Nut Zippers?
Mail Me