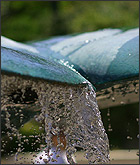 Welcome to my Website!
My name is María C. Vélez Ruiz and I am from San Juan, Puerto Rico. I studied at the University of Puerto Rico at Río Piedras with a major in Pre-Translation and a minor in Modern Languages (Italian and German). I also speak French at a basic level.
During my undergraduate studies, I participated in a Summer's program at the University of Vienna, Austria in 2004 and at the University of Urbino, Italy in 2005.
Currently, I am pursuing my Masters of Arts in Spanish-English Translation at Kent State University in Ohio, USA.