About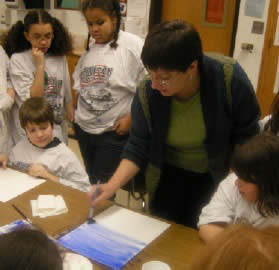 Kathleen J. Hilton (aka Kat Sikora Hilton) attended Kent State University, earning a degree in Art Education, later doing post-graduate work in studio art, detail-oriented with background in retail sale of art and related products. Subsequently, she worked with galleries in Morgantown, WV and Northern Ohio, where she specialized in framing and conserving unusual compositions; thus adding art history, plus techniques of conservation and presentation to her repertoire.

Taking time off to have twins, she stayed at home until they reached school age. Her interest in childhood development provided the impetus to further her education by acquiring a teaching certificate in Early Childhood Education from Ashland University. She has her Master's Degree in Art as a Literacy Tool, and teaching licensures in Early Childhood (age 3-8/ Grade PS-3), Reading (K-12), and Special (K-12) Visual Art.

Mrs. Hilton has been employed by the Oberlin City Schools as Eastwood and Prospect's art teacher since the fall of 2007. Mrs. Hilton also teaches two sections of art 1 at Oberlin High School. Prior to this, she was employed as the Eastwood's Building substitute and has filled many long term substitute positions as a teacher of Kindergarten, First-grade, Second-grade, and Art classes during teachers' long-term absences. Kathy has also taken course work in graphic design, Adobe Illustrator, Photoshop and other computer graphing software.

She designed the Oberlin City School Districts brochures, Eastwood's logo, "Circle of Friends", and other designs for the Eastwood and Prospect PTO and the schools' fundraising events.

She has volunteered her art related services to Ohio Dance Theatre in Oberlin, Ohio where she designed and created many of the props and costumes for the school's children ballets and the professional ballet company. Also, using her talent as a graphic designer, she created many of the company's brochures, advertising items, and websites.