Welcome to the
FALL, 2013
GEOL 34061 INVERTEBRATE PALEONTOLOGY
writing-intensive course*
at KENT STATE UNIVERSITY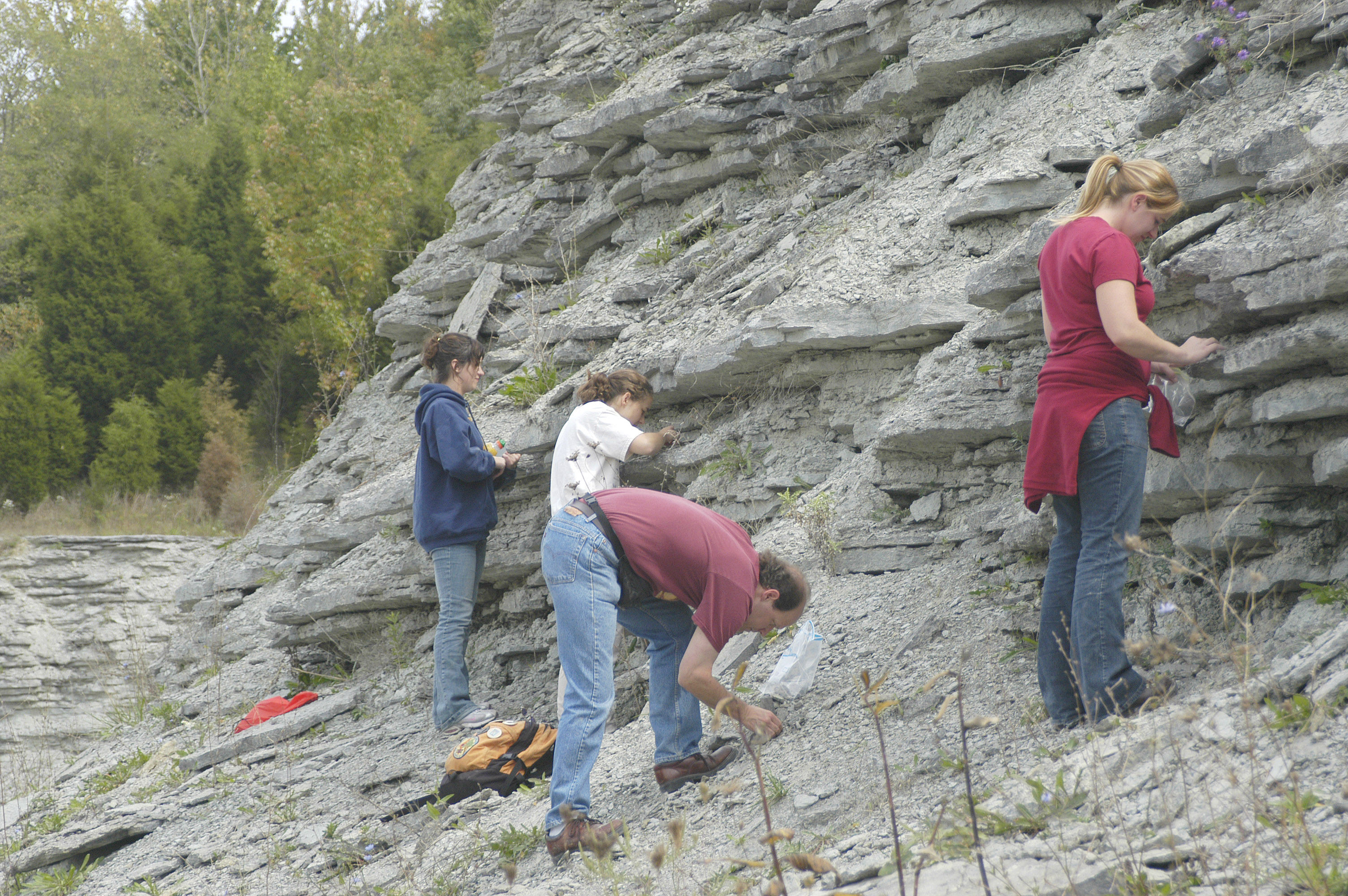 Students collecting Ordovician fossils at
Caesar's Creek State Park - Photo by D. Waugh, Dept. Geology, Kent State Univ.
Two Texts will be Used This Year: Benton & Harper, 2009, Paleobiology and the Fossil Record, and Brian Switek's Written in Stone: Evolution, the Fossil Record, and Our Place in Nature**. See Syllabus for details.
* To complete the writing-intensive course requirement, a grade of "C" (2.0) or higher must be earned in the course.
(See KSU undergraduate catalog 2013-14 for details, or follow the link above in "writing-intensive" for more information.)
In this web page you will find information to help you succeed in Invertebrate Paleontology.
More information will be added as the semester progresses. The web page currently contains…
COURSE SYLLABUS WITH IMPORTANT DATES

LAB SYLLABUS and GRADING POLICY
**Useful Weblinks for Further Information about Brian Switek's book, Written in Stone
Brian's summary of how he got into science writing, especially paleo. Here is his webpage with a list of url links of his numerous articles published in Smithsonian Magazine and other journals: www.brianswitek.com .
Try one of his short articles for Smithsonian Magazine here: The Scariest Zombies in Nature
Google interview on YouTube - Breaking Bio Episode 33, Interview with Brian Switek - Brian describes his work on a dinosaur dig in Utah.
How to Calculate Your Grade in This Course
Grades, Essay & Exam Format, Class Policies, Learning Outcomes & Expectations, Academic Honor Code

Frequently Asked Questions about the Invertebrate Paleontology Course
Take the Practice FINAL EXAM
Suggested Topics for Essay 1
Titles of First Essays from Past Students
Titles of Second Essays from Past Students
How to Write an Essay for This Class
How to Write an Outline for Essay 1
Evaluating Internet Resources
Tips for Successful On-Line Reference Searching Using the Library's Webpage
Online Citation guides, Writing guides, & Grammar guides
Online Tips on How to Avoid Plagiarism
USEFUL LINKS
(MAT and Education Majors Note: Highlighted Links have Tools for Educators)
Student Accessibility Policy
University Policy 3342-3-01.3 requires that students with disabilities be provided reasonable accommodations to ensure their equal access to course content. If you have a documented disability and require accommodations, please contact the instructor at the beginning of the semester to make arrangements for necessary classroom adjustments. Please note, you must first verify your eligibility for these through Student Accessibility Services (contact 330-672-3391 or visit www.kent.edu/sas for more information on registration procedures).
Registration Requirement
Registration Requirement: The official registration deadline for this course is September 8th, 2013. University policy requires all students to be officially registered in each class they are attending. Students who are not officially registered for a course by published deadlines should not be attending classes and will not receive credit or a grade for the course. Each student must confirm enrollment by checking his/her class schedule (using Student Tools in FlashFast) prior to the deadline indicated. Registration errors must be corrected prior to the deadline. The last date to drop this course is November 3rd.