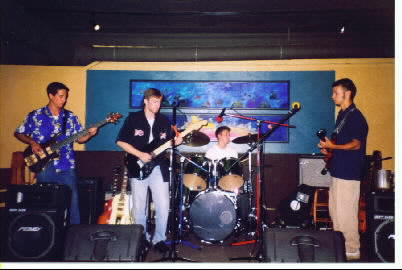 Nathan Ian Ryan
(click for individual bios)
History of Lucky 13
Lucky 13 was formed in January 1998 by Ian Ross, Nathan Salladay, and Dan Phillips. The group came about because Dan had subbed for the drummer in another band that Ross and Salladay were in called Syn-Don. The trio had so much fun playing together that Ian and Nathan disbanded Syn-Don and Lucky 13 was born.
Early on the band developed a unique sound and style. Rather than working on a lot of covers, the band focused on writing and recording original material or re-working rock and blues standards. Soon after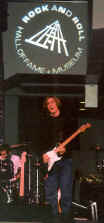 forming the band began playing in the local clubs and rib burn-offs and even the rock and roll hall of fame (some of which was recorded for several live albums, see discography)! Scott Loresch was added to the line-up on keyboards in October '98. Their first studio album was recorded in a single day in only one or two takes. The boys were only 15 years old! In late June '99, Scott was asked to leave due to lack of chemistry.
Just as things were heating up, two other instrumentalists joined the Lucky 13 line-up. In

October 1999 Eric O'Donnell joined the group on keyboards and was soon followed in April 2000 by percussionist Tim Horak. With the addition of these two new players the band began to explore even more musical directions and recorded a new disc of completely original music which caught the ears of internationally renown producers Jim Gaines (Santana, SRV, Steve Miller Band), Pete Brown (Cream, Jeff Beck, Peter Green), Don Dixon (REM, Hootie & the Blowfish). The band talked with all of the producers about making an album, but things were about to change.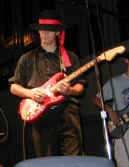 In the June of 2001 Eric and Tim left the group to pursue other interests. The band was now back to the original trio, but fortunately a fellow guitar player and long-time friend of the band (and often guest) came on to fill the void. Ryan Flinn officially joined Lucky 13 in October 2001 after playing with the group on virtually every gig of the previous summer.
Just when it looked like things were getting back to normal (god forbid!) Dan Phillips left the group in September 2001 to join another local band Crimson Rain, citing artistic differences. With many obligations, studio dates, and live shows already scheduled Lucky 13 had to scramble to find a new drummer. Enlisting the talents of Chris Kuzas, Christavus Dominic and Keith Jensen, Lucky 13 finally settled on high school friend and wildman Drew Belden in November of 2001.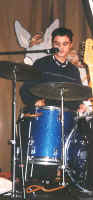 The core of the group now set in stone, Lucky 13 prepared for their 4th and final gig at the prestigious Mountain Dew High School Rock Off at the Odeon Concert Club. To add to the group' s on-going desire to experiment and change, two horn players, Nathaniel Shall and Dan Barbuto, were added to the line-up along with a guest appearance by former member Tim Horak in January 2002.
After the Rock Off Lucky 13 had a steady schedule of gigs over the summer opening for national acts such as Lynyrd Skynyrd, Deep Purple, Ted Nugent, Judas Priest, and Earth Wind and Fire. Then in August, the band went into the studio with producer Jim Gaines and engineer Mike Talanca (Jeff Beck, Foreigner, David Bowie, David Sanborn) to make the "Real Deal" demo. On September 2002, on Friday the 13th, Lucky 13 played its farewell concert to a packed house of friends and family at Northside Bar, the site of the bands first gig 4 years earlier.
After the final concert, Drew, Nathaniel and Dan left the group for college. The permanent members of Lucky 13 (Ian, Nathan and Ryan) are currently attending the University of Cincinnati and are in rehearsals for a new version of the band as often as they can escape their books.
In March 2003 the band was booked for a recording session at Group Effort Studios in Kentucky, but they still didnít have a drummer down at UC. Thanks to the efforts of manager Dan Ross, the band picked up Allan Ritter and he became the drummer at Cincinnati.

Due to scheduling conflicts, Drew could not come back and play with the guys over the summer 2003. Instead, Richard Patterson was brought in and he is now the permanent drummer when Lucky 13 is back home in Akron. Highlights of the summer included the Court Street Grill Blues Festival, and the Grand opening of the Cuyahoga Falls Amphitheater.
Well, another chapter in Lucky 13 is starting - Nathan will be leaving every other quarter for Engineering Co-op, which means that Lucky 13 will need a bassist to sit in. The plans are to get gigs when Nathan is in town. The guys are also hoping that Nathan will get some gigs in Georgia over the summer.
Be sure to check the NEWS and SHOWS section to see when Lucky 13 will be playing in your area.
to be continued...