There are several types of careers that you can pursue with a Geology or Earth Science degree:
* Environmental Geology: You can be involved in water and soil testing and remediation, assessment of sites for pollution types and amounts, clean-up of toxic chemicals from the water and/or soil.
* Engineering Geology: Engineering geologists work with other professionals to oversee the planning and construction of buildings, bridges, roads, dams, landfills, and tunnels. Geological engineers are experts in rock strength, stability of slopes, and the mechanics of soils.
* Geological Education: You can specialize in Middle Childhood or Secondary Education, bringing the Earth Sciences to children of a broad spectrum of ages. Teaching at the college/university level requires a Ph.D. at most institutions.
*Petroleum Geology and Economic Geology: This involves searching for and helping to mine or exploit Earth's resources, including ore minerals, oil, natural gas, and coal.
* Field Geology: You can make maps, assess areas for geological activity, and monitor environmental remediation.
* Science Writing and Editing: With a combination of English or Journalism coursework, you can write or edit science articles, manuals, and other texts.
* Environmental Law: With background in the earth sciences, you can go on to study and litigate various aspects of the impact of humans on the physical environment.
back to top
Engineering Geologists must ensure that roadcuts such as this one in the Andes, near Bariloche, Patagonia, Argentina, are stable. Photo by R. Feldmann.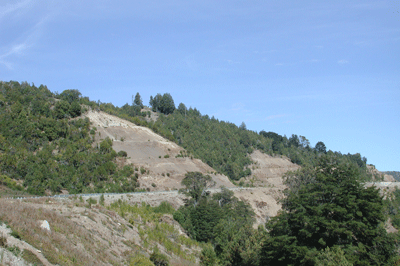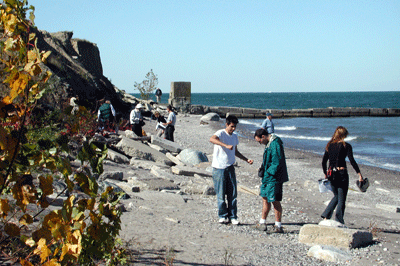 The breakwall in the background has been engineered to protect the Lake Erie coastline. Photo by R. Feldmann.
Specialize! Geologists who specialize in the following areas typically have a Master's Degree or a Ph.D:
Paleontology–the study of ancient life and ecosystems
Volcanology–the study of volcanoes
Seismology–the study of earthquakes
Hydrogeology–the study of groundwater, its flow, and its pollution and remediation
Hydrology–the study of surface water flow
Geochemistry–the study of geochemical reactions in rocks and water
Geophysics–the study of all physical aspects of the Earth, including paleomagnetism, plate tectonics, earthquakes activity
Structural Geology–the study of mountain building and the folding and faulting of rocks
Paleoclimatology/Paleooceanography–the study and modeling of past oceans and climates
Oceanography–the study of coastal erosion, sediment transport, construction of harbors, and other aspects of the modern oceans
back to top
This fossil crab was collected from Oligocene rocks of Argentina. Note the 25 peso coin for scale (about the size of a US quarter). Photo by R. Feldmann.